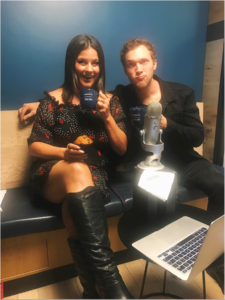 "She encouraged me by listening to me."

(Phillip Phillips about his wife's encouragement and the power of listening)
A few weeks ago, I attended the Listen In event at the Capital One Cafe in Santa Monica for a truly 360-degree listening experience, which included a remote podcast taping of Dine And Dish With Dawn (sponsored by Capital One) – my show where we eat, drink, share stories…and, desserts. According to the Capital One Listen In Survey, nearly 1 in 5 Americans (18%) can't remember the last time someone was completely focused on listening to them, which means that programs like Capital One's can help you open your ears and minds to what people have to say. For Capital One, it helps them better understand how to help along their financial journey.
And, truth talk – I was wearing mismatching earrings the whole evening…but, more on that later.
Over Peet's coffee and delicious locally sourced treats a la Capital One local partnerships, Phillip and I chatted about the food that excites us, the moments that inspire us, our current theme song if we had to choose, the power of hindsight wisdom, perceived weaknesses that became strengths, our dream dinner party guests and the sweet sounds of home.
From learning about Phillip's special recipe of "Wild Turkey Nuggets" to his mom's pecan pie and sweet tea, and his wife's encouragement through listening, this was an episode full of heart based around our common love of southern comfort food.
On top of that, I also got a little side dish of values-driven money guidance from Capital One Money Coach, Megan Lathrop. Not sure what Money Coaching is? Well it's a free three-part program designed to help you discover how your values and money are connected. During your private session with a Coach, you can plan a path for achieving goals and find the confidence to use money to create a life you love.
Head to the Capital One Cafe nearest you to meet a Capital One Money Coach like Megan, or a Capital One Ambassador who will make you feel not only truly listened to, but also informed about creating a banking experience built around your personal banking needs, financial goals, values and passions.
Because if you're like me, sometimes you've got a million things going on, and well, you forget to match your earrings…or, more importantly, how to live your life and spend your money according to your values.
Capital One can help with that. Well, not with the matching earrings part but they are doing their part to build a better bank through listening.
And that is something TRULY delicious.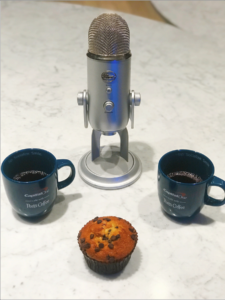 Thank you, Capital One for sponsoring this post! This is a paid endorsement. All opinions are my own and were not directed by Capital One. To learn more about Capital One, visit www.capitalone.com/LISTEN
Follow Dine & Dish with Dawn: @DineAndDishWithDawn
Follow Dawn McCoy (hey! That's me!): @iamDawnMcCoy
Follow Phillip Phillips: @PhillPhill
Follow Capital One & Capital One Cafe: @CapitalOne #CapitalOneCafe
Engineered & Edited by: Jorge